John Deere Tractor AC A/C Compressor With Clutch ReplacesDenso 10PA17C Type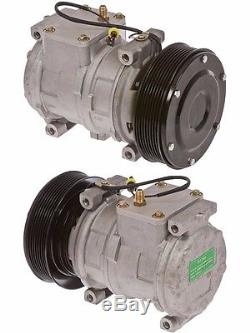 We are required to collect 8.25%. New AC A/C Compressor With Clutch For John Deere. The refrigerant Compressor is the heart of the A/C System.
Its purpose is to compress low temperature refrigerant gas and pump high temperature refrigerant gas through the system. This specially designed pump raises the pressure of refrigerant from approximately 180 to 220 psi. 9410, 9450, 9510, 9540, 9550, 9560, 9570, 9580, 9610, 9640, 9650, 9660, 9670, 9750, 9760, 9770, 9780, 9410, C670, T550, T560, T660, T670, W540, W550, W650, W660. 7760, 9935, 970, 9976, 9986, 9996.
3510, 3520, 7250, 7350, 7400, 7450, 7500, 7550, 7700, 7750, 7800, 7850, 7950, 7200, 7300, 7895. 310, 315, 360, 540, 548, 550, 560, 643,644, 650, 653, 710, 740, 840, 843, 210, 410, 450, 460. 5085, 5095, 5105, 5410, 5420, 5510, 5520, 6403, 6603, 7600, 7610, 7630, 7700, 7710, 7715, 7730, 7800, 7810, 7815, 7830, 7920, 7930, 7200, 7210, 7400, 7410, 7510, 7720, 7820, 8100, 8110, 8120, 8200, 8210, 8220, 8300, 8310, 8130, 8225, 8230, 8245, 8270, 8295, 8320, 8330, 8345, 8430, 8530, 8630, 9400, 9420, 9520, 9620, 9100, 9120, 9200, 9220, 9300, 9320. 4700, 4710, 4720, 4920, 4930, 6700. Note: Requires Use Original Manifold (NOT INCLUDED). To verify fitment please see compatible vehicles link at the top of the page. Please double check any notes there may be more than one option for the same vehicle. If you have any doubts please feel free to send us a message.
Additional parts you need to have replaced. Why is it important to replace those parts? Visit our FAQ section here. Dont Forget To Have Your System Flushed. Flushing is the best way to get old oil and any solid contaminants when replacing any of the parts of an automotive air conditioner system.
When a part fails, for example your A/C compressor, debris and possibly metal shavings may be present in the system. Failure to flush the system will introduce the debris into your new parts and shorten the life of the parts dramatically.
We carry most A/C related components, so we have a huge selection of parts for foreing and domestic cars, trucks and SUV's, every make and model. If you can't find it, please. Hey everybody, first off we would like to say thank you for showing some interest in our company. Our Company was founded in 2010 in Arlington Texas; Robert, Carlos and Jorge worked in the Heating, Ventilation, and Air Conditioning (HVAC) Customer Service for 10 years. With all of us being car enthusiasts, we showed a lot of passion and excitement with anything associated with automobiles.
Another thing that we all had in common besides the love for automobiles is how we treated people. We were all known for our upmost respect for people no matter what stressful situation we encounter. So we decided to use these characteristics to help us build our foundation for our company and with our knowledge/experience (HVAC) we believe that we can be a great company that stands out from the rest. When we decided to start Comfort Auto we had 4 goals in mind.
Always to try our best to help our customers needs. Show the upmost respect to our customers no matter what situation.
Offer the highest quality aftermarket/OEM parts at a great price. Keeping these goals is our top priority for Comfort Auto in order to earn our customers trust and also for future customers. At Comfort Auto we test our entire Auto Parts for quality and standard measurements. The results are outstanding; the percentage is less than 1% defect.
With these great results we can offer the cheapest price possible since we dont have to worry about returning defective Parts. We will continue the drive to be the best in customer service. All Comfort Autos A/C Parts is covered for a full one year from manufacturing defects Excludes AG Or HD Applications. Add the Correct Amount of Refrigerant Oil. Replace the Accumulator or Drier. Replace the Condenser (if applicable). Replace the Expansion Valve or Orifice Tube Install an in-line filter. _gsrx_vers_486 GS 6.5.1 (486).
The item "John Deere Tractor AC A/C Compressor With Clutch ReplacesDenso 10PA17C Type" is in sale since Saturday, October 18, 2014. This item is in the category "eBay Motors\Parts & Accessories\Car & Truck Parts\Air Conditioning & Heat\A/C Compressor & Clutch". The seller is "comfortauto" and is located in Arlington, Texas. This item can be shipped worldwide.
Brand: Omega/UAC
Manufacturer Part Number: AH169875,RE46609, SE501462, TY24304, TY6764
Interchange Part Number: 4471002381, 4471002388, 4472003084, 4472003667
Other Part Number: 4472004930, 4472004932, 4472005031, 4710441
Surface Finish: Aftermarket Replaces: Denso 10PA17C