Carburetor for John Deere 2010 2020 2510 299 99 10A18173 1403-0001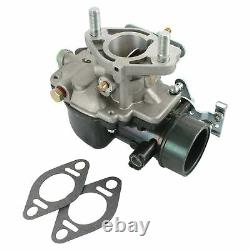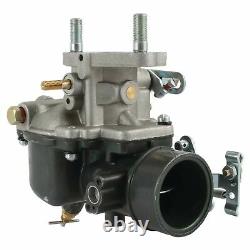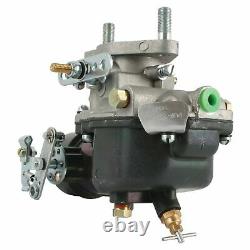 New Carburetor for John Deere 2510 102631AS, 10A18173, 194603M1, 194603M91. Engineered to perform and fit just like the original carburetor in your tractor. Comes with a mounting gasket for easy installation and preset to factory standards. Complete Tractor Carburetors Complete Tractor keeps you working in the field with engineer-tested fuel system components for tractors. We work directly with factories to ensure each component is manufactured to our exacting quality control standards that meet genuine OEM specifications. But because there is no middleman, we can offer these exceptional-quality fuel-system components at low factory direct prices that are up to 30% off typical OEM prices. With Complete Tractor fuel system products, you'll get. OEM Quality Every Time - Our aftermarket fuel system components deliver performance that's equivalent to the ones made by OEM suppliers.
Direct-Fit OEM Replacement Parts - Complete Tractor aftermarket fuel system components are designed for perfect fitment to replace the ones that originally came in your tractor. Engineer-Tested Excellence - Our fuel system components go through a rigorous testing program to ensure optimal performance. Reasons to choose Complete Tractor for your next carburetor.
Every unit comes with a mounting gasket for quick and easy installation. Adjusted and tuned so that it's preset to factory standards. Brand new carburetor - not a secondhand refurbished one. Yes, you have a full year to make sure your fuel system components perform to your expectations.
Carburetor Gasket: Included Style: Zenith Draft Type: Updraft Notes: Bolt spacing: 2 11/16 C to C. New carbs are not adjusted to new specs due to age and wear variances of tractors, may need to adjust mixture, idle, and float adjustments.
102631AS, 10A18173, 14996, 17A40, 194603M1, 194603M91, 310015, 310015C, 377234R93, 396966R91, 405030R91, 520736M92, A35616, A35816, AM1613T, AM1794T, AM3227T, AM3611T, AM366T, AR62244, AT12357T, AT21142, AT21784, AT21848, AT22994, D3JL9510D, G4573, RE19402, TSC615, TSX1000, TSX1001, TSX1002, TSX245, TSX389, TSX475, TSX477, TSX530, TSX562, TSX615, TSX641, TSX662, TSX678, TSX688, TSX689, TSX695, TSX704, TSX711, TSX737, TSX738, TSX756, TSX768, TSX772, TSX784, TSX788, TSX791, TSX800, TSX806, TSX808, TSX819, TSX843, TSX849, TSX854, TSX857, TSX877, TSX878, TSX881, TSX885, TSX886, TSX888, TSX895, TSX898, TSX899, TSX904, TSX905, TSX905-1, TSX905I, TSX905SL, TSX906L, TSX907, TSX907SL, TSX908, TSX908SL, TSX920SL, TSX921, TSX921SL, TSX923, TSX923SL, TSX925, TSX925SL, TSX933, TSX934, TSX934SL, TSX938, TSX938SL, TSX940, TSX941, TSX941SL, TSX942, TSX943, TSX947, TSX955, TSX959, TSX959SL, TSX961, TSX964, TSX964SL, TSX965, TSX965SL, TSX966, TSX967, TSX968, TSX970, TSX972, TSX973, TSX974, TSX977, TSX981, TSX984SL, TSX985SL, TSX988, TSX993, TSX994, TSX997. Unless otherwise specified in the item listing on our website, on the receipt or packing slip, or in the following terms, Complete Tractor will accept qualified and conforming products for replacement for the period of 1 (one) year. Condition and free from damage of any type, including, but not limited to dents, scratches, cracks, abuse, defacement or indication of removed screws/fasteners or seals. Complete Tractor shall not be held liable for packages lost in transit.
The customer may use this label to return the item to Complete Tractor free of charge. After the item is received by Complete Tractor for processing, Complete Tractor will send out a replacement unit. If you have a problem, we will take every step to assist you. Fuel Tap for Massey Ferguson Tractor 30D 230 Others -1694985M92. New Map Sensor for Universal Products C282239, C282-239.
NEW Fuel Tap for Massey Ferguson Tractor 253 275 340 342 350 352 355. NEW Fuel Tap for Massey Ferguson Tractor 360 362 365 372 375 382 390 390T 398. This listing is currently undergoing maintenance, we apologise for any inconvenience caused.
This item is in the category "Business & Industrial\Heavy Equipment, Parts & Attachments\Heavy Equipment Parts & Accessories\Other Heavy Equipment Parts & Accessories". The seller is "completetractor" and is located in this country: US. This item can be shipped worldwide.
Brand: Complete Tractor
MPN: 1403-0001
IPN: 194603M91, 310015, 310015C, 377234R93, 396966R91, 405030R91, 5207