Flood/Spot LED Headlight For John Deere Tractor 7020 Series 7220, 7320, 7420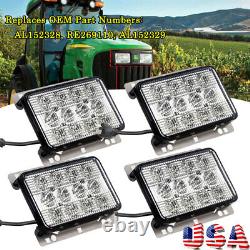 60W TL6420 LED Headlight For John Deere Tractor AL152328, RE269110, AL152329. This LED Light features a durable polycarbonate lens, it is built to be RoHS compliant, and comes with stainless steel hardware.
The color of light LEDs emit is near the color spectrum of the mid-day sun and allows the human eye to function and view objects better to improve your work environment. Specifications: 6" x 4" (W x H) Flood/spot beam pattern 3,500 effective lumens 12 LED's 60 watts 5 amp draw Color temperature:6500K White Input voltage: 12-Volt to 24-Volt Operation temperature -40°C70°C Waterproof rate:IP67 Plug and play wiring for easy install Direct OEM replacement light Includes connector, mounting bracket and hardware Replaces front hood light.
Replaces Part Numbers: AL152328, RE269110, AL152329. Package Included: AS YOUR CHOOSE. Cancelling Your Order: Your order is important to us and will be processed immediately. So you don't need to worry about get nothing after you pay.