NEW AC Compressor for John Deere 4240 4240S 4320 4350 4420 4430 4440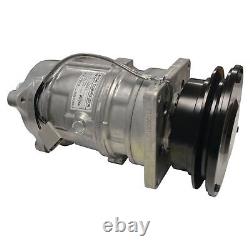 AC Compressor for John Deere - AR92109 SE501456 SE501457 TY6770, Fiat 82008689. NEW AC Compressor for John Deere 4240 4240S 4320 4350 4420 4430 4440. Engineered to fit and perform just like your original air conditioning compressor. Operates with high efficiency in moving refrigerant for more effective cooling. Tractor Air Conditioning Compressor A well-functioning air conditioner in a tractor is vital during the hot and humid days of summer.
If your tractor has an enclosed cab, it becomes even more important because all the glass can raise temperatures to unbearable levels. In the heat of summer, a working air conditioner is more than a comfort feature. It can be a safety feature to keep you from overheating. Function of the Air Conditioning Compressor The purpose of the compressor is to move refrigerant throughout the system. Our compressors run with great efficiency to keep your tractor air conditioner running at peak performance.
A Complete Tractor air conditioning compressor will fit and perform just like the original that came in your tractor. 3 Signs that an Air Conditioning Compressor is Failing If you experience any of these conditions, you may need to replace the compressor in your air conditioning soon.
Difficulty in Starting or Stopping - If the air conditioning unit becomes challenging to start or stop, the compressor may be experiencing a malfunction. Declining Cooling Capacity - If the air conditioning unit can't cool as well as it once did, it's a sign of the compressor potentially failing. Unusual Sounds - Noises could indicate anything from worn parts to leaks in the system.
Yes, you have a full year to make sure your order meets your expectations. Compressor Belt Type : Single groove v-belt Pulley Outside Diameter : 5 3/4 Voltage : 12v Compressor Oil : PAG-46, 7.43oz Product Notes : New S6 design will replace original A6 design.
Uses aluminum case to save weight and dissipate heat more quickly. Note, does not include pressure valves. AC Compressor for diesel applications. DOES NOT INCLUDE SUPER HEAT SWITCH. John Deere: AR60948, AR68802, AR77343, AR92109, RE60697, SE501456, SE501457, SE503047, TY6665, TY6770.
Unless otherwise specified in the item listing on our website, on the receipt or packing slip, or in the following terms, Complete Tractor will accept qualified and conforming products for replacement for the period of 1 (one) year. Condition and free from damage of any type, including, but not limited to dents, scratches, cracks, abuse, defacement or indication of removed screws/fasteners or seals. Complete Tractor shall not be held liable for packages lost in transit. The customer may use this label to return the item to Complete Tractor free of charge.
After the item is received by Complete Tractor for processing, Complete Tractor will send out a replacement unit. If you have a problem, we will take every step to assist you. NEW AC Receiver Drier for Case International Tractor - 143469C2 1990758C2. NEW AC Compressor for Ford New Holland Tractor 8160 8260 8360 8560 TM115 TM120. Receiver Drier for Ford New Holland Tractor - D6NN19N644B. NEW AC Compressor for Massey Ferguson Tractor 4255 4260 4263 4265 4270 4325. This listing is currently undergoing maintenance, we apologise for any inconvenience caused.