New Carburetor for John Deere 420 Indust/Const 194603M91 377234R93 396966R91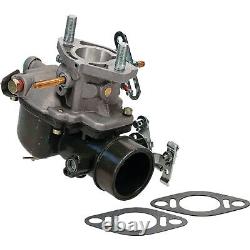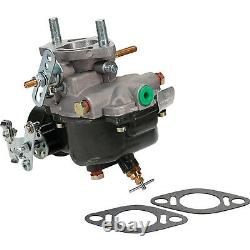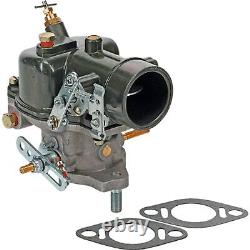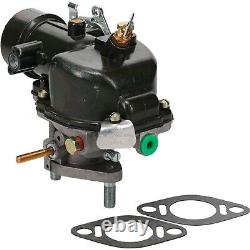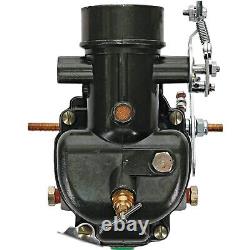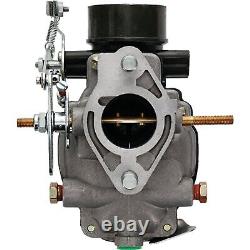 New Carburetor for John Deere 420 Indust/Const 194603M91, 377234R93, 396966R91. New Carburetor for John Deere 420 Indust/Const 194603M91 377234R93 396966R91. Engineered to perform and fit just like the original carburetor in your tractor.
Comes with a mounting gasket for easy installation and preset to factory standards. Complete Tractor High Performance Carburetors As an essential component in your fuel system, a carburetor makes the difference between a smoothly operating fuel system or a roughly operating one.
The role of the carburetor is to mix fuel with air to generate power for the internal combustion function of the engine. Complete Tractor carburetors are highly engineered to produce the optimal fuel mixture for enhanced engine performance. Precision Fuel System Performance A new carburetor from Complete Tractor will deliver quick starts, smooth idling, good fuel economy and smooth acceleration. Complete Tractor carburetors are a preferred choice among owners of farm vehicles and equipment for their flawless performance in the fuel system.
OEM Quality Every Time - Our aftermarket products deliver performance that's equivalent to the ones made by OEM suppliers. Direct-Fit OEM Replacement Parts - Installation is easy because the carburetor is designed to fit just like the original. Engineer-Tested Excellence - Our aftermarket products are made to meet high performance standards. Yes, you have a full year to make sure everything meets your expectations.
Description: Carburetor Gasket: Included Style: Zenith Draft Type: Updraft Notes: Bolt spacing: 2 11/16 C to C. New carbs are not adjusted to new specs due to age and wear variances of tractors, may need to adjust mixture, idle, and float adjustments. 102631AS, 10A18173, 14996, 17A40, 194603M1, 194603M91, 310015, 310015C, 377234R93, 396966R91, 405030R91, 520736M92, A35616, A35816, AM1613T, AM1794T, AM3227T, AM3611T, AM366T, AR62244, AT12357T, AT21142, AT21784, AT21848, AT22994, D3JL9510D, G4573, RE19402, TSC615, TSX1000, TSX1001, TSX1002, TSX245, TSX389, TSX475, TSX477, TSX530, TSX562, TSX615, TSX641, TSX662, TSX678, TSX688, TSX689, TSX695, TSX704, TSX711, TSX737, TSX738, TSX756, TSX768, TSX772, TSX784, TSX788, TSX791, TSX800, TSX806, TSX808, TSX819, TSX843, TSX849, TSX854, TSX857, TSX877, TSX878, TSX881, TSX885, TSX886, TSX888, TSX895, TSX898, TSX899, TSX904, TSX905, TSX905-1, TSX905I, TSX905SL, TSX906L, TSX907, TSX907SL, TSX908, TSX908SL, TSX920SL, TSX921, TSX921SL, TSX923, TSX923SL, TSX925, TSX925SL, TSX933, TSX934, TSX934SL, TSX938, TSX938SL, TSX940, TSX941, TSX941SL, TSX942, TSX943, TSX947, TSX955, TSX959, TSX959SL, TSX961, TSX964, TSX964SL, TSX965, TSX965SL, TSX966, TSX967, TSX968, TSX970, TSX972, TSX973, TSX974, TSX977, TSX981, TSX984SL, TSX985SL, TSX988, TSX993, TSX994, TSX997. Unless otherwise specified in the item listing on our website, on the receipt or packing slip, or in the following terms, Complete Tractor will accept qualified and conforming products for replacement for the period of 1 (one) year. Condition and free from damage of any type, including, but not limited to dents, scratches, cracks, abuse, defacement or indication of removed screws/fasteners or seals.
Complete Tractor shall not be held liable for packages lost in transit. The customer may use this label to return the item to Complete Tractor free of charge. After the item is received by Complete Tractor for processing, Complete Tractor will send out a replacement unit. If you have a problem, we will take every step to assist you. Carburetor Kit for Case International Harvester Tractor 2500B 454 464 574 674.
NEW Fuel Injector for John Deere 2040 2130 2150 2155 2240 2255 2330 AR89564. NEW Fuel Injector for John Deere 310D LOADER 3155TSS 315C LOADER 315D LOADER. New Thermostart for Ford New Holland Tractor 445 445A 450 4500 4600 4600SU.
This listing is currently undergoing maintenance, we apologise for any inconvenience caused.