Pertronix Ignitor/Ignition Massey Ferguson F40 H260 MF50 withDelco Distributor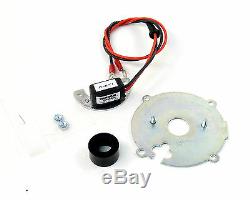 Pertronix Ignitor/Ignition Massey Ferguson F40 H260 MF50 w/Delco Distributor. Dodge / Ram Diesel Parts. Ford / Lincoln / Mercury. Medium / Heavy Duty Diesel Parts. Valves, Springs, Guides, and Kits. For over thirty years, the Ignitor has proven itself in applications ranging from race cars to tractors. The Ignitor replaces breaker point and troublesome factory electronic ignitions with a dependable, self contained and maintenance free electronic ignition system.
The Ignitor has been called the "stealth" ignition because of its quick installation and nearly undetectable presence under your distributor cap. Delivers twice the voltage to the spark plugs, increasing horsepower, fuel economy, and spark plug life.
2:1 improvement over points in current fall time for increased coil output. Rotating cobalt magnets trigger a Hall Effect integrated circuit. Epoxy molding makes our module impervious to dirt, oil, grease and moisture. Fits entirely inside the distributor. No black box to clutter the engine compartment. Will trigger most multi-spark CD ignitions. Use with Flame-Thrower® 40,000 volt coil for optimal performance (available separately). Available for 6 and 12-volt negative and positive ground systems. Legal in all 50 states and Canada C. This listing is for a 12-volt, negative ground Pertronix Ignitor for teh following applications with a 4-cylinder engine using a counter clockwise rotating Delco distributor.
1965-68 Allis Chalmers H4 Crawler Tractor; distributor #1112665. 1969-72 Allis Chalmers FP-20, 30; FT20, 25; FTB30-24 (distributor #1112455). 1972 Allis Chalmers Model 600; distributor #1112490. Allis Chalmers AC-C20, 25, 30, 35, 40, 45, 50, 55; distributor #1112490. Allis Chalmers AC-P20, 25, 30; FP-40, 55; Model 500; distributor #1112490.
1964-78 Clark models with a 4-cylinder engine using Delco distributor 1112637 or 1112673. Eaton/Yale/Towne GLF, GLFP, GLFW, GLT; distributor #1112637. Hyster models using Delco distributor 1112443, 1112635, or 1112677.
1972-78 Hyster Challenger H-20, 25, 30, 60, 70. 1972-78 Hyster Spacesaver S-20, 25, 30, 40, 50 lift truck. 1962-72 John Deere 500, 500C 3020 Series Tractor; distributor #'s 1112474, 1112648. Massey Ferguson models using Delco distributor 1112643, 1112458, 1112693, or 1112644.
Minneapolis-Moline models using Delco distributor 1112671 or 1112642. Terex models with Delco distributor 1112677. Towmotor models using Delco 1112677. Waukesha models using a Delco 1112455 distributor. White models using Delco distributor 1112642 or 1112487.
Wisconsin V460D, 461D, 465D; distributor #1112695. IHC 544, 574, 674, (C-200, D-239). IHC 5314 (C-153, C-175 engine). John Deere models using Delco distributor 1112474, 1112648, or 1112623. Massey Ferguson models using Delco distributor 1112643, 1112644, 1112647, 1112693, or 1112458.
Minneapolis-Moline models using Delco distributor 1112684 or 1112642. White Farm Equipment using Delco distributor 1112642. Thank you for looking at our listing and look forward to doing business! Engine Parts Centers consists of 4 engine parts warehouses located across the Southeastern United States with over seventy professional associates. Our corporate and administrative office is located in Meridian, MS.
We stock a broad range of engine parts for passenger cars, small trucks, marine, diesel, industrial, agricultural and high-performance applications. Whether you need nothing more than a freeze plug kit or you're in need of a full deluxe engine rebuild kit - we've got you covered! A comprehensive engine kit program is available for thousands of engines with every kit provided to fit your exact needs! The company's operating platform is designed to serve all aftermarket customers effectively with a maximum service level.
We supply the engine parts needs of custom engine rebuilders, custom engine repair centers, high performance operations, traditional auto parts operations and national wholesale and retail chains. We recognize our customers make a choice every day when they use our products and service and we are constantly redoubling our efforts to be sure we earn their business! If you need assistance with online ordering or locating a specific part, please contact one of our offices using the online form by clicking here.
We stock thousands of engine parts, valve train parts & engine rebuild kits for gasoline & diesel engines available for passenger cars, light trucks, performance, off-road, agricultural, inboard marine & industrial applications. Don't see what you need? M-F 8am-6pm Eastern to obtain a RGA number. For engine kit, piston ring, rod/main bearings & piston orders, we ask buyers to specify parts size(s) in the additional details text area of the online checkout process or through a separate message. The item "Pertronix Ignitor/Ignition Massey Ferguson F40 H260 MF50 withDelco Distributor" is in sale since Thursday, October 4, 2012.
This item is in the category "Business & Industrial\Heavy Equipment, Parts & Attachments\Heavy Equipment Parts & Accessories\Ignition Systems". The seller is "falconglobal" and is located in Memphis, Tennessee. This item can be shipped worldwide.
Brand: Pertronix
MPN: 1145A